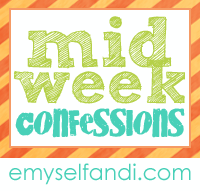 It's been an accidental hiatus and to make things a little better, I'm going to linkup for some midweek confessions (even if it isn't an actual linkup because e, myself, and I are on a blog break).

~ I have a secret addiction to the Secret Life of the American Teenager. Yup. I really do. I know it's an awful show (the acting is pretty bad sometimes), but I got sucked in and now I'm just too involved in the ridiculous drama to quit watching. So, for about 45 minutes each week, I waste my time and watch the cheesy and addictive show. My husband thinks I'm crazy.

~ I have finally finished changing around my blog (for awhile at least). I'm pretty satisfied with the way that it turned out. That's not cocky, right?

~ I have been putting off my application at a private school for about 2 weeks because of an essay I have to write for it. Is that bad or what? The essay is about my views on Christian education, how I plan to implement the Bible, and my relationship with Jesus. I'm thinking too hard about this whole thing.

~ I haven't been crafty in a long time. It's pretty sad. That's going to change by the end of this week.

~ I haven't posted any pictures of our new place yet because it STILL has yet to be tidy and organized.