Welcome back to another great week of Get Outside Monday.
Nick and I are actually going out of town on Friday and we'll be gone 'til Tuesday. We're going backpacking!! I'm stoked.
We're going...
Click to make it bigger.
We're heading up to Ross Lake for some wilderness exploring. 4 days and 3 nights.
So, this Monday's post is going to be a little different.
I want to share with you the all gear we will be bringing with us on our epic adventure.
Backpacks
Mine
(left)
is an REI Venturi 40 liter pack.
Nick's
(right)
is an REI Flash 60 liter pack.
Tent
We currently have a
Marmot Limelite
tent. We got it as a wedding present and we love it!
It's a cozy two-person tent and it has enough room to fit us and most of our gear.
Sleeping bags
I have an REI Shasta sleeping bag. I actually got this one a few years ago used at REI's garage sale. It has worked pretty well. Someday I'm going to upgrade to a nice down or synthetic bag.
I'm also very envious of my husband...
Nick just got a new lightweight Mountain Hardwear Lamina sleeping bag. It's incredibly warm, super comfy, and just, awesome.
Sigh...
Sleeping pads
We like to try and go ultralight when we backpack
(meaning we keep our pack weights down as far as we can, even if that means scraping out some extra fun or comfort items)
. Right now we have two Thermarest Z-lite pads. They aren't as thick as I'd like them
(someday we're gonna get nice inflatible lightweight ones)
, but they are super light and not too bad to sleep on.
Boots
Nick's
(left)
are La Sportiva. He's had them for a long time. Mine
(right
) are Vasquez. I've had mine for about 2 years.
Water filter
We have used different ones in the past.
You just pump the water from a flowing stream or not so nasty lake, it attaches straight to a nalgene bottle and it'll fill it right up!
It's also an awesome arm workout.
Stove
photo from: REI.com
Nick has a really nice
MSR Whisperlite
stove. It has served us well for the past couple of years!
All you do is turn on the fuel canister and light the stove part up.
Like you would a BBQ.
Cookware
GSI Ultralight
cookware set. It comes with a carrying case that acts as a washing bin, a big pot, 4 bowls
(with sipping lids and sleeves to protect our hands)
, and two sporks.
We like to use those green sporks instead of the ones that came with it because they're much more durable and have a knife part along one of the fork sides.
We also axed those two mugs for this trip.
Need to cut back on weight wherever we can!
Essentials/Survival kit
From top left to bottom right - snaking around:
Toothbrushes, toothpaste, biodegradable soap, deodorant (you really need this if you're not showering for 4 days!), hand warmers (we actually axed these), first aid kit, dry bag (necessary for the fire starting stuff), contact stuff, brush/comb, fire starting stuff, headlamps, rope, map of the area, carmex, sunblock, DEET - bug spray, no DEET bug spray for our hands/face, glasses, pen & paper
Food
All of our food for the entire 4 days. There are some serious calories in these foods.
Please note, we don't eat like this normally. When you go out backpacking you gotta pack things that are high in calories (because you burn so much hiking everyday) and we also try and find things that are lightweight.
Let me just point out each section.
Bottom left: Breakfast foods (including: pop tarts, coffee/tea, two juices, oatmeal, 4 tortillas, and a Mountain House breakfast burrito mix)
Left: Desserts (marshmallows and a new "chocolate pie" recipe we're trying)
Top: Dinners (Mountain House lasagna, instant potatoes, and two new recipes we're trying - Japanese energy soup and a mac 'n cheese mixer thing)
Bottom right: Lunches/snacks (baguette, meat & cheese, crackers, nuts, dried fruit, beef jerky, and lots and lots of bars.
See y'all soon!
-------------------------------------------------------------------------------------------------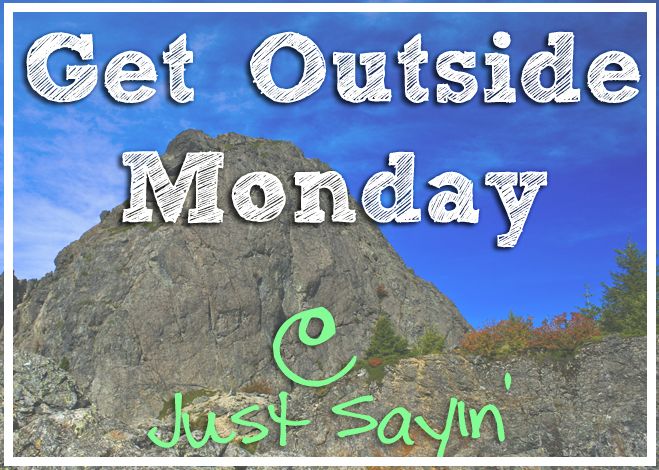 1. Write a post about how you got outside this past week (you can even tie it in with your weekend recaps)
2. Grab the button
3. Link up
4. Get inspired by (and support) other outsiders!