Neely over at A Complete Waste of Makeup is doing an awesome linkup right now. Basically I'm just gonna talk a little about myself and this blog I have!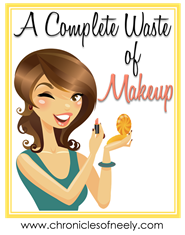 If you didn't know already my name is Alison. I have been married to my wonderful husband for 7 months now. Life is pretty fantastic -
most of the time.
Here is a little picture of us.
I caught the garter at my friend's wedding - hence this picture. HA!
I love spending time with my husband outside, whether it's hiking, backpacking, swimming, or just walking around. I also love creating things and
trying
to be crafty.
This blog I have going on is just to show some little pieces of our life together.
My main goals for this blog are to share with you some of the crafts I've been working on, ways that we're being frugal, and other little snippets of our life. I think that lately it's been a lot about linkups and random ramblings.
Oh well!
I do have a few posts that I have written about me and I hope you will learn a few things about me!
FVC Day 4: Our Wedding
10 Day You Challenge (multiple posts)
I was tagged!