A Complete Waste of Makeup
and
Ashley's Carnival Ride
are hosting a new link-up.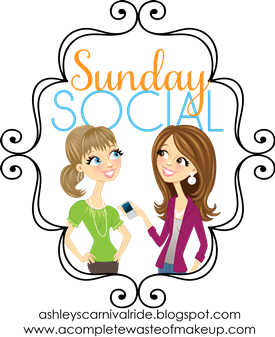 I hope you'll join in, too!
All you have to do is answer 6 questions that revolve around the same topic. Here are my answers!
How did you come up with your blog name?
The name is pretty simple and sums up what the blog is about. The life of two Sokools.
Our last name isn't sokool, but that's how you pronounce it in Polish!
What is your favorite thing about blogging?
The people you meet through blogging and link-ups. I have met some pretty wonderful people so far and I can't wait to meet more!
Also, I love hearing about all of the different ideas from everyone. Some things I never would have thought about and I love that the blogging world is all about sharing ideas with people from all over.
Thank you Pinterest for that as well.
What is one thing you have discovered because of blogging and now cant live without?
Because of blogging I have discovered Pinterest
(can't live without that anymore!)
and new relationships with people from across the country!
Facebook or Twitter? and why?
Facebook and that's just because I haven't gotten into the who Twitter scene yet.
I also don't have a smart phone so Twitter is a little inconvenient to use.
If one celeb read your blog who would you want it to be?
That's a hard one. It would probably be Esperanza Spalding, Chris Thile, or Bear Grylls. A few celebrities that I look up to. Although, it would be a little nerve wracking to have an inspiring celebrity read your blog, but who knows!
What is something you want people to know about your blog?
I'm here to share with you pieces of my life, including some ideas for foods and crafts, and hopefully make a few friends along the way.
As well as keep friends and family up-to-date on life with us.
What are your answers?