I have decided to start a linkup!
I did try this linkup before, when I had about 20 followers, but I think I was just too excited and it died pretty quickly.
All you have to do is write a post about how you got outside prior to this Monday. It could include walking around town, hiking, running, whatever! Just get outside and post about it.
I'm excited about this linkup because it will keep me in check with being outdoors and hopefully inspire you to get outside!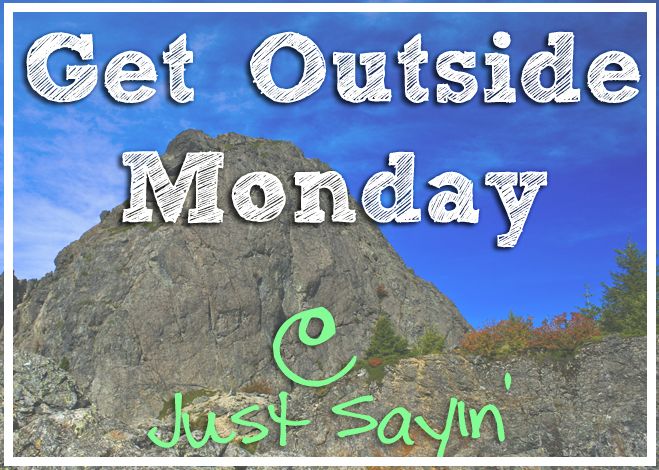 1. Write a post about how you got outside this past week (no matter how simple)
2. Grab the button
3. Link up
4. Get inspired by
(and support)
other outsiders!
-------------------------------------------------------------------------------------------------
It was pretty easy to get outside last week. The sun was shining almost everyday, the weather was hot, but not too hot, and it was beautiful!
One.
I got to take the girls
(I'm a nanny)
to the local water slides. It was a blast!
What made it more fun was that halfway through the day we convinced J
(she's 4)
to ride on some of the bigger slides with us. That meant that I didn't have to sit in the kiddy pool! Woohoo!
She was terrified of the river ride, which involved sitting in a three person tube, but she loved the no tube slides. I think it was because she got to sit on my lap the whole time and when we reached the end I lifted her up. Didn't even have to get wet, lucky girl!
Also, the other girls and I got to watch a little love connection unfold between J and another little boy. She decided that she wanted to hold hands with him and they were inseparable for quite some time. Waiting for each other at the bottom of the slides and then instantly grabbing hands. It was incredibly sweet.
Two.
My grandparents have a huge blueberry patch in their backyard. I took the girls with me to go pick some.
It didn't last long because of a few spider webs. I am terrified of spiders as well, but having to be the "bigger man" I have learned to overcome my little fear of spiders. Although I will still freak out if one is found on me or very close to me.
Pardon the bad quality. The iPod isn't too great of a camera...


My husband and I went back later at night and picked two big containers full of blueberries. Our plan is to freeze them all and use them for smoothies! Yum!
Three.
We got to house/dog sit last weekend. It was pretty fun!
Mostly because we got to hang out with some cute border collies in an air conditioned house!
But, we did spend a lot of time with the chuckit!
Four.
Nick and I had a little sunset run the other night and I got to go on a run a few days before that. Still workin' on getting up to 5k status. Slowly.. slowly...
Typical feet shot. Yes, I'm guilty.

So, how did you get outside? Come link up with me!