I know last week didn't have a lot of linker-uppers, but that's not the point of this, right? Right! So, come link up with me and let's get outside!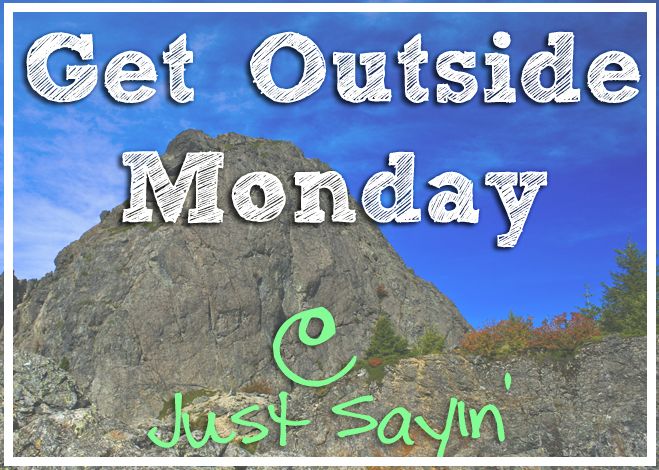 1. Write a post about how you got outside this past week (no matter how simple)
2. Grab the button
3. Link up
4. Get inspired by (and support) other outsiders!

-------------------------------------------------------------------------------------------------

It was crazy hot this last week. We got the hottest days of the summer last week. My husband loved it, but me? Not as much as him.

Here's how we got outside.

One.

Last weekend we ended up going to Portland, OR for two days to visit my sister-in-law. On Sunday they had an awesome market going on. We ended up hanging out around there for a few hours and exploring the city. I love Portland! Even though it was 90+ both days we were there.

We did walk by Voodoo doughnuts when we were at the market, but the line was insane. So we decided to head on over there later in the evening. SO GOOD!
Our "candid" shots. Very cute.
Best. doughnuts. I've ever. tasted. Mine are the coconut one (bottom) and Old Dirty Bastard - oreos & P.B. (very top)
I can't believe I've never had a Voodoo doughnut.
Two.
After going to Portland we decided to camp out for a night at Cape Disappointment on the Washington coast. It was actually surprisingly chilly!
The clouds were pretty low most of the day (although once late afternoon/evening came, we got some nice clear skies) AND it was pretty windy AND it was around 58 most of the day. Not so warm.
The jetty was very awesome.
Buried redneck. Or at least that's the story we made up.
Me.
Did you know that marshmallows are pretty gross when they get a little moisture on them?
We did have fun though. BBQ'd hot dogs, explored the beach, checked out the nearby lighthouse, and even went out on the beach for some meteor shower watching.
We watched the sunset from an awesome shelter!




Our crazy selves. Apparently, I can't jump.
It was a pretty successful weekend.


How did you get outside this week?