I did it! I made a button for my blog! Now you can take a button and share my blog with your friends and readers. If you want to swap buttons, I would love to! Just let me know! :)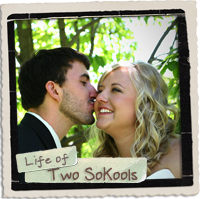 My days have been filled with boxes, packing tape, sharpies, and cleaning. Sheesh! Moving is crazy.
We are moving in with my grandparents for a month just so we can get our feet on the ground. I am so thankful for them! They are life savers in our time of financial struggle. Thank you!
I have decided to start purging a lot of our stuff during this move, though. It's so nice! I have found so many things that we can sell/donate. It feels good to get rid of unnecessary things! Does everyone feel that way? I hope so.
One last thing before I go. I'm thinking about starting a linkup. One about getting outdoors and doing something. What do you guys think? I
love
linkups and I think this would really fun and would get me more involved with my readers and other bloggers. Advice would be great because I've never created a linkup before! Thanks!
Until next time...