Happy Monday! The sun is shining today and I have to work.
Ugh!
Not fair! My husband decided that he would just rub it in a little bit how nice it is outside. What a butthead.
Anyways...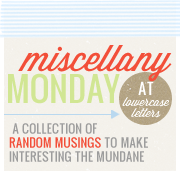 I decided to do a new linkup for Monday. It's called Miscellany Monday over at
lowercase letters
. It should be fun since I just get to write random things!
Woohoo!!!
1. I am totally going to try out cross stitching tonight. I'm so excited! I went to Joann Fabrics and bought a few goodies. There are some pretty awesome patterns, too. Check out one I found on Pinterest!
The Princess Bride is such a great movie!
2. I love lace camisoles. Very, very much. But
why
do they always get rips in them?! Does anyone else get bothered by this?? I feel like I need to buy new ones all the time in order to replace my
not that old
old ones! Maybe I pull them down too much. Eh,
oh well.
3. Wii Fit is a lot of fun! Does anyone else think so? If you do it right, those workouts can be pretty intense!
4. Just an 101 in 1001 update. #72: Go huttubbing, is a success. Last weekend we spent a night soaking in my grandparent's hot tub. Sooo nice! Also, #93: Brew some good mead, is also a great success. Not to brag, but my husband made some awesome mead. I'll make a post about it soon, but they are pretty dang good and have lots of character!
I sound so classy saying that, ha!